Tax Preparation Services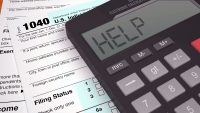 When tax season comes around. You begin the ritual of gathering tax information. You might use a tax professional or D-I-Y your tax return using software. No one likes to do taxes, especially if you end up owing money to the IRS.
To say tax returns have become more complicated is an understatement. The reality is, there are more ways to make simple mistakes when doing your own tax return. Mistakes which could cost you in penalties, interest or in some cases repayment of refunds.
As good as modern tax software is today, they are not perfect and may not catch an exemption claimed in error. This is where a professional tax preparer comes into play. Our experience and knowledge navigate the complicated web of tax code to help you take every deduction you are entitled, so you pay the legal lowest amount in taxes.
How is Baldwin and Company different?
We offer you various ways to have your taxes completed and filed.
Traditional
Simply bring your tax documents to our office, complete a yearly questionnaire profile and we will complete your tax return. When completed, you come into the office to sign, pay, and take your copy of your taxes.
Paperless
Our paperless options allow you to submit your tax information on your time schedule. Once access to our secure client portal is complete, you can upload your tax documents, complete questionnaires, and message us. All preparation is paperless, you electronically sign, pay for the preparation service, and will receive a digital copy of your return. All through our secure client portal.
How do I get Started?
If you want to go the traditional route, you can bring your tax documents to one of our offices.
If you choose to go paperless, contact us that you would like access to the portal. We will create your profile and you will receive a welcome email with a link to set up your portal password.
Once you have portal access, you will be able to upload your tax documents.
What format does my documents need to be to upload?
You can upload PDF scans and Excel files. To make scanning your tax documents easier, we recommend Adobe Scan. This free app for your Apple or Android phone will et you scan documents and save them in PDF form.
Secure File Pro App
This application allows you to access the portal through your mobile device making file uploads simple.
What if you are self-employed?
If you are a Sole-Proprietor, LLC or LLP, we can help.
You are out working each day to make your business more successful. A major challenge for business owners are the many hats you wear. You are the bookkeeper, payroll administrator, Compliance manager the list goes on. Forgetting the fact that you still need to run your business. How can Baldwin and Company help shed the stress and frustration?
Provide Bookkeeping Services
We can setup and configure QuickBooks Online for your business. We will show you just want you need to know to provide us the information we need to keep your books in order and bank account balanced. We can also provide reports which help you better understand what is going on within your business or can be given to lenders or investors. Inaccurate or  lack of bookkeeping can be expensive in the long run and detrimental to your business. Our bookkeeping service offers an affordable way to have all the benefits of a fulltime bookkeeper without the payroll cost.
Payroll Services
Payroll compliance can be a challenge, especially if you are unaware of the labor laws and withholding requirements. We can take the mystery out of payroll and ensure you are tax compliant. We can do either live check, direct deposit or after the fact (we calculate the withholdings and file the tax returns, you write your employees their payroll checks.) We can also provide time tracking software employees can use through their mobile device.
Tax Preparation for Bookkeeping Service
Each year we will close out your books and get them ready for taxes. This involves issuing 1099's for all contracted labor or services. If you have our payroll service, we will generate the W2's each year.
Tax Return Preparation
We can prepare your tax return and file. We do offer a paperless option for submitting tax information or information needed for bookkeeping through our secure portal.
To learn more about Baldwin and Company, contact us for a consultation to help use determine how Baldwin and Company can benefit your business and custom craft a service plan for your business.